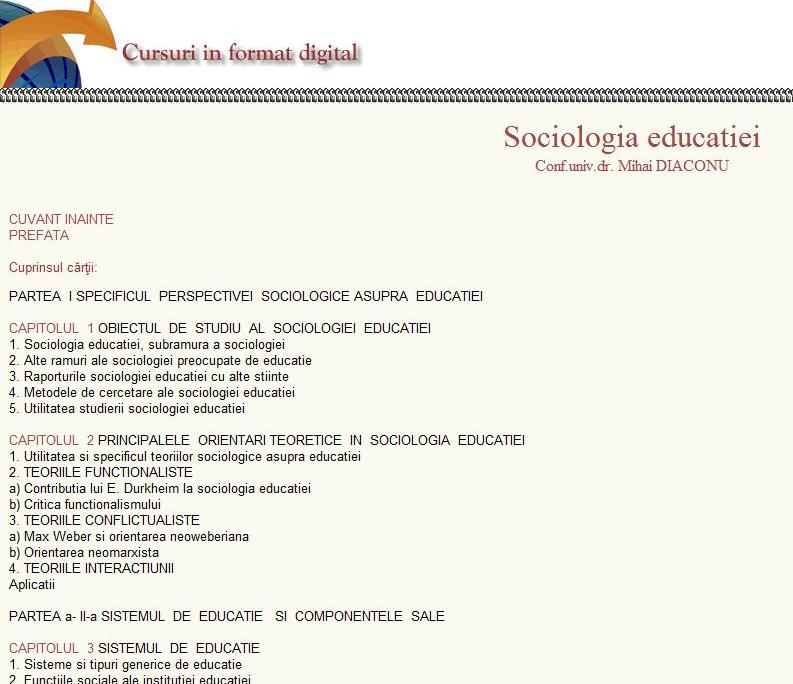 TITLE OF THE PUBLICATION
:
Sociologia Educației
SURNAME AND NAME OF AUTHOR(S)
:
Conf.univ.dr. Mihai Diaconu
PUBLISHER
:
www.biblioteca-digitala.ase.ro/biblioteca
PLACE AND DATE OF PUBLICATION
:
București
TYPE OF PUBLICATION
:
Cercetare, Manual
LANGUAGE/S OF PUBLICATION
:
Română
LANGUAGE OF REVIEW
:
Romanian
DESCRIPTION OF CONTENTS
:
Sub titlul "Sociologia educaţiei" autorul a grupat – pe lângă teme care în mod tradiţional sunt abordate de această ramură a ştiinţelor educaţiei – câteva teme de psihosociologie şcolară şi de sociopedagogie. Introducerea în planul de învăţământ al Departamentului pentru Pregătirea Personalului Didactic (DPPD) a unui modul opţional de "Sociologia educaţiei" se înţelege valorificarea în sensul pregătirii viitorilor profesori pentru a se integra cu uşurinţă în instituţia şcolară, prin cunoaşterea particularităţilor ei, dar şi pentru a face faţă acelor provocări ale profesiei didactice care sunt generate de specificul grupurilor de elevi cu care lucrează, ori de particularităţile mediului social al şcolii în care funcţionează.
Multe dintre acţiunile educative pe care trebuie să le întreprindă un profesor sunt impuse de specificul populaţiei şcolii sau al mediului social din vecinatea acesteia, şi nu numai de problemele pedagogice ridicate de predarea disciplinei de specialitate.

COMMENTS ON THIS PUBLICATION
:
Scopul acestei lucrări este, aşadar, acela de a contribui la o mai bună pregătire iniţială a viitorilor profesori, prin formarea unor competenţe profesionale, pe care celelalte module incluse în planurile de învăţământ ale DPPD nu pot să şi le propună în mod prioritar, ca urmare a timpului de studiu care le este alocat şi a unghiului specific din care, totuşi, fiecare tratează, în mod obişnuit, problematica profesiei didactice.
NAME OF COMPILER
:
Andreea Cleminte
NAME OF INSTITUTION
:
Fundatia EuroEd