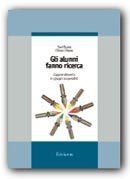 TITLE OF THE PUBLICATION
:
Gli alunni fanno ricerca. L'apprendimento in gruppi cooperative. Ericson Trento
SURNAME AND NAME OF AUTHOR(S)
:
Y. Sharan, S. Sharan
TYPE OF PUBLICATION
:
Libro
LANGUAGE/S OF PUBLICATION
:
Il libro è in lingua inglese: Expanding cooperative learning though group investigation. Traduzione italiana di Anna Lachin
LANGUAGE OF REVIEW
:
Italian
DESCRIPTION OF CONTENTS
:
Secondo gli autori il group investigation è un metodo per l'istruzione in classe in cui gli studenti lavorano in modo collaborativo in piccoli gruppi per esaminare, fare esperienza e capire il loro argomento di studio.
Il modello ha lo scopo di condurre gli studenti a definire problemi , esplorare diverse prospettive su di essi e studiare assieme per acquisire informazioni, idee e abilità, sviluppando nello stesso tempo le proprie competenze sociali.
L'insegnante imposta e gestisce in processo di gruppo, aiuta gli studenti a trovare e a organizzare l'informazione e assicura un elevato livello di attività e discussione.


COMMENTS ON THIS PUBLICATION
:
Io penso che i metodi cooperativi, senza volersi sostituire ai metodi tradizionali, innestano una maggiore riflessione sugli aspetti sociali e interazionali dell'apprendimento. Quello che rappresenta a mio parere il valore aggiunto al libro degli Sharan è l'aver introdotto il metodo della ricerca scientifica nell'apprendimento in genere e nell'apprendimento cooperativo in particolare. Inoltre è interessante l'impostazione secondo la quale gli insegnanti non devono porsi come primo obiettivo il pedissequo assorbimento dei saperi quanto invece l'azione attiva dell'imparare a pensare, insomma lo sviluppo del pensiero critico.
NAME OF COMPILER
:
Agata Lacagnina
NAME OF INSTITUTION
:
Istituto professionale Einaudi, Grosseto