Lifelong Learning Project - School Inclusion - Preventing Early School Leaving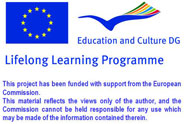 Training Initiatives

TITLE OF TRAINING INITIATIVES
:
Certificazione di competenze nel sistema di formazione e istruzione
NAME OF ORGANISER
:
A.F. La Base di S.Lorenzo
CIPAT
LANGUAGE OF THE REVIEW
:
Italian
COUNTRY WHERE IT TOOK PLACE
:
Italy
REVIEW OF THE TRAINING INITIATIVE
:
Contesto di riferimento
Le attività di formazione hanno riguardato 20 operatori della Formazione Professionale e dell'Istruzione Professionale, il corso ha avuto luogo nel periodo da settembre a dicembre 2011
Obiettivi del percorso di formazione
Costruire operatori in grado di certificare competenze nel passaggio tra Istruzione Professionale e Formazione Professionale
Competenze acquisite dai partecipanti al corso
I partecipanti al corso hanno acquisito competenze riguardo la certificazione e conseguito la qualifica di "Valutazione e certificazione delle competenze"
Impatto sullo sviluppo della professionalità
Gli Operatori sono entrati nel sistema toscano (iscrizione all'Albo Regionale dei Certificatori) che prevede la presenza in ogni Agenzia Formativa di un responsabile della certificazione.
Osservazioni finali
Tutti I partecipanti al corso hanno acquisito la qualifica regionale.
NAME OF THE REVIEWING ORGANISATION
:
CIPAT

15 November 2012
[email protected] at the Future of Education Conference
The [email protected] projet will be presented at the third edition of the "Future of Education" international conference, held in Florence, Italy, on 13 - 14 June 2013. Over 250 participants from all over the world will attend the conference. The conference participants belong to the sectors of higher education, school education, vocational education and training as well as adult education, therefore representing all of the target groups of the [email protected] project.

School Inclusion - Copyright 2008 - This project has been funded with support from the European Commission



Webmaster:
Pinzani.it
- Materiale fotografico: ©
Yuri Arcurs
|
Dreamstime.com