Lifelong Learning Project - School Inclusion - Preventing Early School Leaving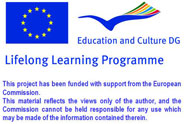 Training Initiatives

TITLE OF TRAINING INITIATIVES
:
"Difficili o maleducati?"
NAME OF ORGANISER
:
UCIPEM e Scuola Media Statale "Luigi Einaudi" Marghera - Venezia
LANGUAGE OF THE REVIEW
:
Italian
COUNTRY WHERE IT TOOK PLACE
:
Italy
REVIEW OF THE TRAINING INITIATIVE
:
Il consultorio UCIPEM ha organizzato il corso presso la scuola media Einaudi che si trova in un'area ex industriale a forte incidenza di immigrati e, in generale, di fasce popolari che vivono in modo pesante l'attuale crisi. La questione dell'integrazione e della convivenza è cruciale, così come quella del contenimento del tasso di ripetenza.
La formazione si è strutturata in tre incontri della durata totale di tre mesi e si è rivolta sia ai docenti che al personale ATA, in prima fila sia nell'accoglienza che nel controllo della disciplina a scuola.
Gli operatori hanno chiesto allo staff della scuola di mettere in pratica le tecniche di comportamento illustrate durante il corso e di discuterne in occasione dell'ultimo incontro.
In generale i corsisti si sono dichiarati soddisfatti dell'esperienza.

NAME OF THE REVIEWING ORGANISATION
:
USR Veneto

15 November 2012
[email protected] at the Future of Education Conference
The [email protected] projet will be presented at the third edition of the "Future of Education" international conference, held in Florence, Italy, on 13 - 14 June 2013. Over 250 participants from all over the world will attend the conference. The conference participants belong to the sectors of higher education, school education, vocational education and training as well as adult education, therefore representing all of the target groups of the [email protected] project.

School Inclusion - Copyright 2008 - This project has been funded with support from the European Commission



Webmaster:
Pinzani.it
- Materiale fotografico: ©
Yuri Arcurs
|
Dreamstime.com