Lifelong Learning Project - School Inclusion - Preventing Early School Leaving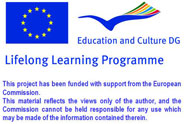 Training Initiatives

TITLE OF TRAINING INITIATIVES
:
Formation de "la Salle des Pros" (2008)
NAME OF ORGANISER
:
Pôle Formation Continue du Département Education et Technologie (Facultés Universitaires Notre-Dame de la Paix à Namur - FUNDP)
Ce service met en oeuvre des dispositifs de formation continue à destination des acteurs de l'éducation et, notamment, de l'enseignement secondaire.
LANGUAGE OF THE REVIEW
:
French
COUNTRY WHERE IT TOOK PLACE
:
Belgium
REVIEW OF THE TRAINING INITIATIVE
:
• "Décrochage, accrochage : juste un autre regard sur eux …"
http://www.fundp.ac.be/det/pfc/salledespros/feuilletsalledespros/Feuillet4
• "Itinéraires de décrochage, itinéraires de raccrochage"
http://www.fundp.ac.be/det/pfc/salledespros/feuilletsalledespros/feuilletsalledesprosn3

- Encadrement où l'initiative de formation a pris place
Mesures de lutte contre le décrochage scolaire et visant à assurer à tous les élèves des chances égales d'émancipation sociale, au sein de la Fédération Wallonie-Bruxelles.

- Les raisons pour lesquelles l'initiative de formation est pertinente et sélectionnée
Soutenir le développement professionnel des enseignants. Favoriser la création de réseaux de professionnels de l'éducation. Permettre la construction de savoirs de la pratique.

- Compétences acquises par les enseignants impliqués
• Lieu de parole, d'écoute et de confrontation d'idées : témoignages, mises en situations, temps de réflexion, d'appropriation, …
• Expérimentation et analyse de pratiques novatrices débouchant sur la construction de savoirs utiles à l'action

- Impact sur le développement professionnel
Des outils pour la mise en place d'une pédagogie différenciée, à laquelle les personnels de l'éducation ne sont pas formés.

- Commentaires de l'enquêteur
Séminaires d'une journée pour enseignants, éducateurs, conseillers pédagogiques, agents PMS.
Les compte-rendus de ces journées ont fait l'objet d'une publication dans "Le feuillet de la Salle des Pros ..." (Feuillet d'information n°3, juin 2008 - Feuillet d'information n°4, décembre 2008).
NAME OF THE REVIEWING ORGANISATION
:
INFOREF

15 November 2012
[email protected] at the Future of Education Conference
The [email protected] projet will be presented at the third edition of the "Future of Education" international conference, held in Florence, Italy, on 13 - 14 June 2013. Over 250 participants from all over the world will attend the conference. The conference participants belong to the sectors of higher education, school education, vocational education and training as well as adult education, therefore representing all of the target groups of the [email protected] project.

School Inclusion - Copyright 2008 - This project has been funded with support from the European Commission



Webmaster:
Pinzani.it
- Materiale fotografico: ©
Yuri Arcurs
|
Dreamstime.com