Lifelong Learning Project - School Inclusion - Preventing Early School Leaving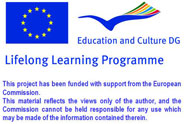 Training Initiatives

TITLE OF TRAINING INITIATIVES
:
Master di I livello in "Didattica e psicopedagogia per i Disturbi Specifici di Apprendimento
NAME OF ORGANISER
:
USR Toscana- Università di Firenze Facoltà di Scienze della Formazione
LANGUAGE OF THE REVIEW
:
Italian
COUNTRY WHERE IT TOOK PLACE
:
Italy
REVIEW OF THE TRAINING INITIATIVE
:
Il corso si propone, tramite attività in presenza e a distanza, di formare docenti e dirigenti scolastici in materia di Disturbi Specifici di Apprendimento, in virtù della Legge 170/2010, del relativo Decreto attuativo del 12 luglio 2011 e delle allegate Linee-guida MIUR per il diritto allo studio degli alunni con DSA. La formazione offerta dal Master di cui sopra risulta uno strumento necessario per potenziare le competenze del personale scolastico rispetto alle problematiche legate ai DSA.
NAME OF THE REVIEWING ORGANISATION
:
CIPAT

15 November 2012
[email protected] at the Future of Education Conference
The [email protected] projet will be presented at the third edition of the "Future of Education" international conference, held in Florence, Italy, on 13 - 14 June 2013. Over 250 participants from all over the world will attend the conference. The conference participants belong to the sectors of higher education, school education, vocational education and training as well as adult education, therefore representing all of the target groups of the [email protected] project.

School Inclusion - Copyright 2008 - This project has been funded with support from the European Commission



Webmaster:
Pinzani.it
- Materiale fotografico: ©
Yuri Arcurs
|
Dreamstime.com