Lifelong Learning Project - School Inclusion - Preventing Early School Leaving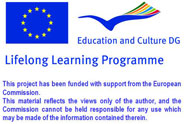 Training Initiatives

TITLE OF TRAINING INITIATIVES
:
Workshops E-twinning
Ciclo di incontri laboratorio

NAME OF ORGANISER
:
USR TOSCANA INDIRE (Agenzia LLPP) IIS Virgilio Empoli
LANGUAGE OF THE REVIEW
:
Italian
COUNTRY WHERE IT TOOK PLACE
:
Italy
REVIEW OF THE TRAINING INITIATIVE
:
Nell'ambito del piano eTwinning regionale delle attività di formazione organizzate in Toscana, si sono tenuti presso l'Istituto di Istruzione Superiore "Virgilio" di Empoli (FI) tre workshop eTwinning rivolti ai dicenti del territorio circostante.
I tre workshop, svolti tutti di pomeriggio per consentire una maggiore affluenza, avevano ognuno l'obiettivo di approfondire un particolare tema dell'ambito didattica e tecnologie, illustrando strumenti e percorsi didattici diversi.
L'organizzazione, svolta in collaborazione con l'USR Toscana è stata curata dalla prof.ssa Bärbel Anders, docente presso la scuola sede del seminario, che ha coinvolto interventi di docenti Ambasciatori eTwinning della Toscana.Contenuti degli incontri :
- 29 marzo 2012: "Lavorare sulla piattaforma eTwinning"
- 26 aprile 2012: "Costruire digital stories con la LIM"
- 31 maggio 2012: "Web 2.0 - strumenti e percorsi didattici"

NAME OF THE REVIEWING ORGANISATION
:
CIPAT

15 November 2012
[email protected] at the Future of Education Conference
The [email protected] projet will be presented at the third edition of the "Future of Education" international conference, held in Florence, Italy, on 13 - 14 June 2013. Over 250 participants from all over the world will attend the conference. The conference participants belong to the sectors of higher education, school education, vocational education and training as well as adult education, therefore representing all of the target groups of the [email protected] project.

School Inclusion - Copyright 2008 - This project has been funded with support from the European Commission



Webmaster:
Pinzani.it
- Materiale fotografico: ©
Yuri Arcurs
|
Dreamstime.com