Lifelong Learning Project - School Inclusion - Preventing Early School Leaving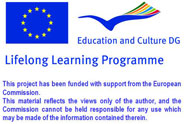 Training Initiatives

TITLE OF TRAINING INITIATIVES
:
"Scuola promotrice di salute, un approccio di comunità"
NAME OF ORGANISER
:
MIUR-USR TOSCANA-CIPES TOSCANA
LANGUAGE OF THE REVIEW
:
Italian
COUNTRY WHERE IT TOOK PLACE
:
Italy
REVIEW OF THE TRAINING INITIATIVE
:
Far acquisire agli insegnanti delle scuole di ogni ordine e grado la capacità di promuovere il progetto "Scuole
promotrici di salute" che mette in relazione la salute con l'educazione favorendo così il benessere ed il
successo scolastico degli studenti e la loro cittadinanza attiva
La definizione della politica di salute nella scuola
Simulazione di una riunione in cui Collegio Docenti decide la politica di salute della scuola
Discussione degli aspetti favorenti ed ostacolanti emersi dalla simulazione

NAME OF THE REVIEWING ORGANISATION
:
IPS DATINI

15 November 2012
[email protected] at the Future of Education Conference
The [email protected] projet will be presented at the third edition of the "Future of Education" international conference, held in Florence, Italy, on 13 - 14 June 2013. Over 250 participants from all over the world will attend the conference. The conference participants belong to the sectors of higher education, school education, vocational education and training as well as adult education, therefore representing all of the target groups of the [email protected] project.

School Inclusion - Copyright 2008 - This project has been funded with support from the European Commission



Webmaster:
Pinzani.it
- Materiale fotografico: ©
Yuri Arcurs
|
Dreamstime.com