Lifelong Learning Project - School Inclusion - Preventing Early School Leaving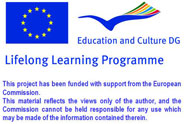 Training Initiatives

TITLE OF TRAINING INITIATIVES
:
Metodi e tecniche dell'orientamento narrativo
NAME OF ORGANISER
:
Rete formativa pratika.net
LANGUAGE OF THE REVIEW
:
Italian
COUNTRY WHERE IT TOOK PLACE
:
Italy
REVIEW OF THE TRAINING INITIATIVE
:
Attraverso il percorso in Metodi e tecniche dell'orientamento narrativo si acquisiscono competenze di progettazione e somministrazione di attività volte all'orientamento, la prevenzione della dispersione e l'empowerment dei soggetti. Saper progettare percorsi educativi fondati sulle narrazioni e saper interpretare testi narrativi, conoscerne le regole di produzione e le modalità descrittive, riuscire quindi a produrre testi narrativi atti a varie funzioni riconoscendo un testo narrativo e la funzione che gli viene attribuita e per la quale è stato prodotto.
NAME OF THE REVIEWING ORGANISATION
:
Ips Datini

15 November 2012
[email protected] at the Future of Education Conference
The [email protected] projet will be presented at the third edition of the "Future of Education" international conference, held in Florence, Italy, on 13 - 14 June 2013. Over 250 participants from all over the world will attend the conference. The conference participants belong to the sectors of higher education, school education, vocational education and training as well as adult education, therefore representing all of the target groups of the [email protected] project.

School Inclusion - Copyright 2008 - This project has been funded with support from the European Commission



Webmaster:
Pinzani.it
- Materiale fotografico: ©
Yuri Arcurs
|
Dreamstime.com