Lifelong Learning Project - School Inclusion - Preventing Early School Leaving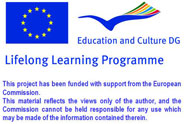 Training Initiatives

TITLE OF TRAINING INITIATIVES
:
Understanding students' conflicts of loyalty to better bring him to success
site : http://www.ifc.cfwb.be/default.asp?pagetg=viewform05&insp=&old=1&id=320061201
NAME OF ORGANISER
:
I.F.C. (Institut de la Formation en Cours de Carrière).
Continuing training for staff members of primary and secondary schools and health and welfare centres (âcentres PMSâ) in the Fédération Wallonie-Bruxelles (French-speaking Community of Belgium).
LANGUAGE OF THE REVIEW
:
English
COUNTRY WHERE IT TOOK PLACE
:
Belgium
REVIEW OF THE TRAINING INITIATIVE
:
Aspects to consider:

- General framework / project in which the training initiative took place
Measures against early school leaving and for studentsâ equal opportunity of social emancipation, in the Fédération Wallonie-Bruxelles.

- Reasons why the training initiative is relevant and selected
Can a young person be loyal to a school setting and in complete contradiction to their family background? The young person is then in a conflict of loyalty. "Who am I obliged to?â
This problem should not be taken lightly because the damages it causes can really destroy the child/studentâs social, emotional and school development.

- Skills acquired by the teachers involved
⢠Understanding the conflict of loyalty in its different forms and the link between this problem and school failure
⢠Analysing specific situations (concrete cases) that highlight the constitutive elements of this problem
⢠Discovering different ways to manage situations that involve such conflicts


- Impact on the professional development
"Better identifying" conflicts of loyalty, educators will be able to adapt and optimise their intervention to young people in difficulty.

- Final comments of the reviewer
Two-day training for educators and other education staff members.
It is based on experiences sharing and concrete cases analysing, encountered by the participants in their professional practice.
It suggests ideas of solutions and reflexion.
NAME OF THE REVIEWING ORGANISATION
:
INFOREF

15 November 2012
[email protected] at the Future of Education Conference
The [email protected] projet will be presented at the third edition of the "Future of Education" international conference, held in Florence, Italy, on 13 - 14 June 2013. Over 250 participants from all over the world will attend the conference. The conference participants belong to the sectors of higher education, school education, vocational education and training as well as adult education, therefore representing all of the target groups of the [email protected] project.

School Inclusion - Copyright 2008 - This project has been funded with support from the European Commission



Webmaster:
Pinzani.it
- Materiale fotografico: ©
Yuri Arcurs
|
Dreamstime.com