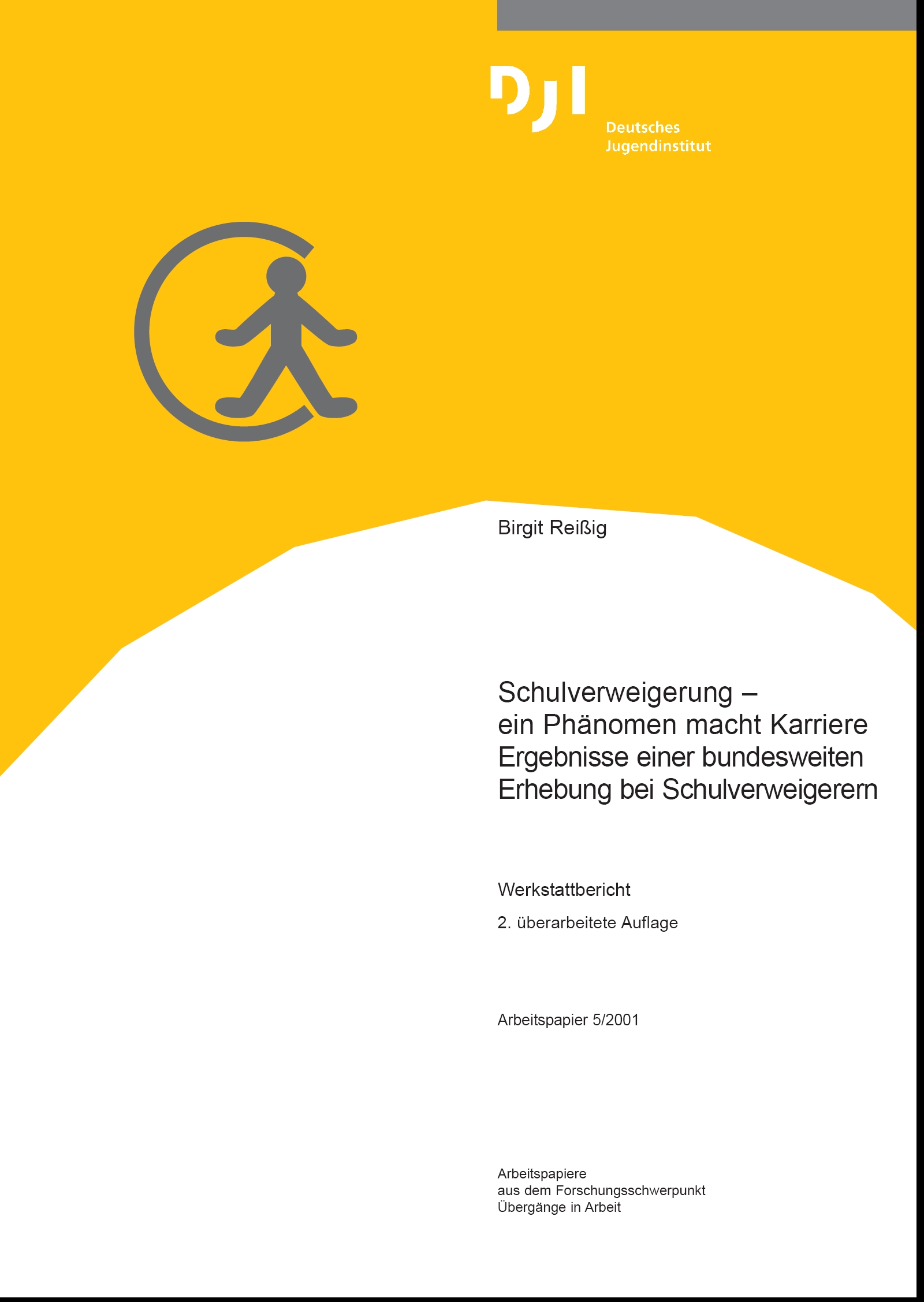 TITLE OF THE PUBLICATION
:
Ergebnisse einer bundesweiten Erhebung bei Schulverweigerern

SURNAME AND NAME OF AUTHOR(S)
:
Reißig, B.
PUBLISHER
:
Deutsches Jugendinstitut e.V.
PLACE AND DATE OF PUBLICATION
:
München, 2001
TYPE OF PUBLICATION
:
Online Dokument, Broschüre
LANGUAGE/S OF PUBLICATION
:
Deutsch
LANGUAGE OF REVIEW
:
German
DESCRIPTION OF CONTENTS
:
Einleitend geht die Autorin auf Begriff und Ursachen der Schulverweigerung , sowie Strategien in Kooperation von Schule und Jugendhilfe gegen Schulverweigerung ein. Den Hauptteil der Publikation macht die Darstellung einer mit Shulverweigern durchgeführten Studie aus. Befragt wurden 346 Jugendliche zur Entwicklung ihrer Schulverweigererkarriere, Beginn und Verlauf, Ursachen, Reaktionen des Umfeldes auf die Schulverweigerung, Angst im Zusammenhang mit Schulverweigerung sowie zu ihrer aktuellen Situation und der Einschätzung ihrer persönlichen Zukunft. In diesem Bericht werden alle wichtigen Ergebnisse der Studie kurz dargestellt und erläutert.
COMMENTS ON THIS PUBLICATION
:
Dieser Bericht wurde am Deutschen Jugendinstitut im Rahmen der wissenschaftlichen Begleitung des Modellprogramms "Arbeitsweltbezogene Jugendsozialarbeit" erarbeitet.
NAME OF COMPILER
:
PD Dr. Gabriele Dlugosch
NAME OF INSTITUTION
:
Zentrum für empirische pädagogische Forschung (zepf)
Universität Koblenz-Landau, Campus Landau

ROLE
:
Leiterin des Kompetenzzentrums Gesundheit und Wohlbefinden