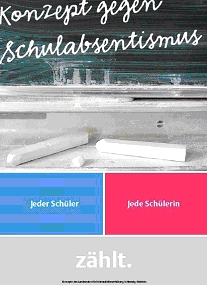 TITLE OF THE PUBLICATION
:
Konzept gegen Schulabsentismus. Jeder Schüler, jede Schülerin zählt. Schulabsentismus – Konzept zur Kriminalitätsverhütung
SURNAME AND NAME OF AUTHOR(S)
:
Rat für Kriminalitätsverhütung in Schleswig-Holstein
TYPE OF PUBLICATION
:
Online Dokument, Broschüre
LANGUAGE/S OF PUBLICATION
:
Deutsch
LANGUAGE OF REVIEW
:
German
DESCRIPTION OF CONTENTS
:
Im Grundlagenteil geht es neben der Begriffsklärung und der rechtlichen Situation in Schleswig-Holstein auch um Ursachen und Auswirkungen von Schulabsentismus. Weiter geht in es in Teil zwei mit der Beschreibung der Untersuchung und den Ergebnissen der Befragung in Förder- und Hauptschulklassen. Der dritte Teil der Dokumentation widmet sich der Ergebnissicherung und spricht Handlungsempfehlungen zum Umgang mit Schulabsentismus aus. Dabei ist besonders beachtenswert, dass diese Empfehlungen unmittelbar auf die Ergebnisse der Studie bezogen werden und die jeweiligen Adressaten benannt werden.
COMMENTS ON THIS PUBLICATION
:
Diese Broschüre geht sehr ausführlich und umfassend auf das Thema Schulabsentismus unter dem Blickwinkel Kriminalitätsverhütung ein. Neben einem Grundlagenteil wird die Studie einer interdisziplinären Arbeitsgruppe in Schleswig-Holstein vorgestellt. Zielsetzung dieser Studie war es, ein Konzept zur Prävention und Unterstützung bei Schulabsentismus zu erarbeiten, Grundlage ist eine Umfrage in allen Haupt- und Förderschulklassen in Schleswig-Holstein.
WHERE TO FIND IT
:
http://www.schleswig-holstein.de/ IM/DE/Service/Broschueren/BroschuerenKrimi/schulabsentismus Boschuere,templateId=raw,property=publicationFile.pdf
NAME OF COMPILER
:
PD Dr. Gabriele Dlugosch
NAME OF INSTITUTION
:
Zentrum für empirische pädagogische Forschung (zepf)
Universität Koblenz-Landau, Campus Landau

ROLE
:
Leiterin des Kompetenzzentrums Gesundheit und Wohlbefinden