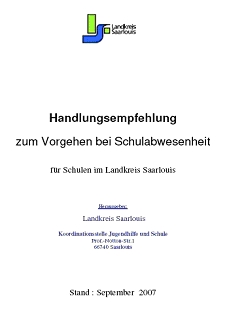 TITLE OF THE PUBLICATION
:
Handlungsempfehlung zum Vorgehen bei Schulabwesenheit für Schulen im Landkreis Saarlouis
SURNAME AND NAME OF AUTHOR(S)
:
Landkreis Saarlouis: Koordinationsstelle Jugendhilfe und Schule
PLACE AND DATE OF PUBLICATION
:
(2007)
TYPE OF PUBLICATION
:
Online Dokument, Broschüre
LANGUAGE/S OF PUBLICATION
:
Deutsch
LANGUAGE OF REVIEW
:
German
DESCRIPTION OF CONTENTS
:
Nach einleitenden begrifflichen Erklärungen werden fünf konkrete Handlungsempfehlungen ausgesprochen, die anschließend erläutert werden. Einen großen Teil der Broschüre nehmen dann Adressen und Kurzbeschreibungen der unterstützenden Einrichtungen ein, unter anderem wird die Kooperation mit Schoolworkern, dem Schulpsychologischem Dienst, dem Gesundheitsamt, dem Amtsgericht und dem Jugendamt thematisiert. Ein kommentiertes Literatur- und Linkverzeichnis sowie konkrete Vordrucke und Muster-schreiben, die Lehrkräfte bei Schulpflichtverletzungen verwenden können, ergänzen die Handlungsempfehlung.
COMMENTS ON THIS PUBLICATION
:
Die Handlungsempfehlungen wurden von einer Arbeitsgruppe mit Fachkräften aus verschiedenen Bereichen in Kooperation mit Eltern, Lehrkräften, der Polizei und weiteren Institutionen erarbeitet und sollen Schulen im Landlkreis Saarlouis im Umgang mit Schwänzern und Schulverweigerern unterstützen.
NAME OF COMPILER
:
PD Dr. Gabriele Dlugosch
NAME OF INSTITUTION
:
Zentrum für empirische pädagogische Forschung (zepf)
Universität Koblenz-Landau, Campus Landau

ROLE
:
Leiterin des Kompetenzzentrums Gesundheit und Wohlbefinden