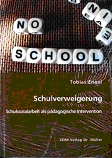 TITLE OF THE PUBLICATION
:
Schulverweigerung. Schulsozialarbeit als pädagogische Intervention
SURNAME AND NAME OF AUTHOR(S)
:
Engel, T.
PUBLISHER
:
Saarbrücken: VDM Verlag Dr. Müller
PLACE AND DATE OF PUBLICATION
:
2006
TYPE OF PUBLICATION
:
Buch
LANGUAGE/S OF PUBLICATION
:
Deutsch
LANGUAGE OF REVIEW
:
German
DESCRIPTION OF CONTENTS
:
- Abriss über den gesellschaftlichen Wandel und die Bedeutung, heute Jugendlicher zu sein.
- Das System Schule wird aus verschiedenen Perspektiven betrachtet (rechtliche Situation, Diskussion um Pisa, Noten ja/nein, Unterricht und Disziplin, etc.).
- Geschichte der Schulsozialarbeit, rechtliche Einordnung
- Überleitung zur Schulverweigerung (Definition, Vorkommen)
- Ursachenforschung und Entwicklungsrisiken
- Prävention, Intervention, Rehabilitation und Beispiele aus der Praxis

COMMENTS ON THIS PUBLICATION
:
- Der Autor ist Sozialpädagoge, hat soziale Arbeit studiert und arbeitet als Sozialarbeiter an einer Schule und spricht somit aus eigener Erfahrung.
- Der Autor zeigt Handlungsmöglichkeiten auf und wägt eventuelle Risiken und Gefahren ab.
- Das Buch richtet sich an Eltern und Fachleute.

NAME OF COMPILER
:
PD Dr. Gabriele Dlugosch
NAME OF INSTITUTION
:
Zentrum für empirische pädagogische Forschung (zepf)
Universität Koblenz-Landau, Campus Landau

ROLE
:
Leiterin des Kompetenzzentrums Gesundheit und Wohlbefinden