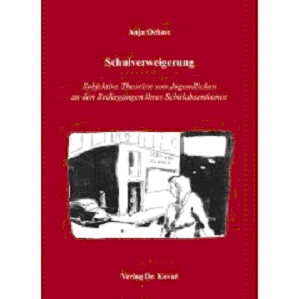 TITLE OF THE PUBLICATION
:
Schulverweigerung: Subjektive Theorien von Jugendlichen zu den Bedingungen ihres Schulabsentismus

SURNAME AND NAME OF AUTHOR(S)
:
Oehme, A.
PUBLISHER
:
Verlag Dr. Kovač
PLACE AND DATE OF PUBLICATION
:
Hamburg, 2007
TYPE OF PUBLICATION
:
Buch
LANGUAGE/S OF PUBLICATION
:
Deutsch
LANGUAGE OF REVIEW
:
German
DESCRIPTION OF CONTENTS
:
- Annäherungen an den Begriff der Schulverweigerung
- Konzepte zur Entstehung von Schulabsentismus (Verwahrlosungskonzept, psychodynamisches Konzept, Rollentheorie, die Schulkritik-Konzeption, Systemische
Sichtweise)
- Gegenüberstellung empirischer Ergebnisse überleitend zur wissenschaftstheoretischen Grundlage der eigenen Untersuchung (Behaviorismus, Kognitive Theorien, subjektive Theorien)

COMMENTS ON THIS PUBLICATION
:
- In dieser Studie erfolgte die Durchführung strukturierter Interviews. Die TN sollten
retrospektiv ihre subjektiven Theorien ihres Fernbleibens darstellen.
- Darstellung der methodischen Vorgehensweise anhand von Einzelfällen (idiographische Analyse)
- Interventionen zu den einzelnen Fallbeispielen runden die Darstellungen ab.
- Anschauliche Diagramme geben eine Übersicht über den Weg zum Schulabsentismus.

NAME OF COMPILER
:
PD Dr. Gabriele Dlugosch
NAME OF INSTITUTION
:
Zentrum für empirische pädagogische Forschung (zepf)
Universität Koblenz-Landau, Campus Landau

ROLE
:
Leiterin des Kompetenzzentrums Gesundheit und Wohlbefinden