Lifelong Learning Project - School Inclusion - Preventing Early School Leaving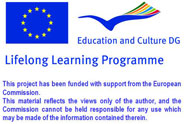 Database of Publications

TITLE OF THE PUBLICATION
:
Negotiating school failure, negotiating myself and the "the other". Narratives of young people who quit 9-year compulsory education in the first year of secondary school.
SURNAME AND NAME OF AUTHOR(S)
:
Kαλογρίδη Σ.
PLACE AND DATE OF PUBLICATION
:
-
TYPE OF PUBLICATION
:
Άρθρο σε ιστοσελίδα
LANGUAGE/S OF PUBLICATION
:
Αγγλική, Ελληνική
LANGUAGE OF REVIEW
:
Greek
DESCRIPTION OF CONTENTS
:
Ερευνητικά στοιχεία για τη σχολική αποτυχία και διαρροή μέσα από τις προσωπικές ιστορίες μαθητών στην περιοχή των Λιοσίων Αττικής. Ποιοτική Προσέγγιση που διερευνά τα αίτια, το περιεχόμενο της σχολικής αποτυχίας και διαρροής από την Α΄ Τάξη Γυμνασίου, υπό τη σκοπιά των ίδιων των μαθητών. Διερεύνηση των παραμέτρων της ατομικής ευθύνης και των ευθυνών του συστήματος, στο οποίο περιλαμβάνονται οι «σημαντικοί άλλοι».
COMMENTS ON THIS PUBLICATION
:
Σημαντική συμβολή στην κατανόηση του προβλήματος της σχολικής αποτυχίας/διαρροής από τη σκοπιά της ψυχολογίας των ίδιων των μαθητών που αποτυγχάνουν ή διαρρέουν από το σχολείο.
NAME OF COMPILER
:
Kallignomos Konstantinos


NAME OF INSTITUTION
:
ASPETE

15 November 2012
Stay@School at the Future of Education Conference
The Stay@School projet will be presented at the third edition of the "Future of Education" international conference, held in Florence, Italy, on 13 - 14 June 2013. Over 250 participants from all over the world will attend the conference. The conference participants belong to the sectors of higher education, school education, vocational education and training as well as adult education, therefore representing all of the target groups of the Stay@School project.

School Inclusion - Copyright 2008 - This project has been funded with support from the European Commission



Webmaster:
Pinzani.it
- Materiale fotografico: ©
Yuri Arcurs
|
Dreamstime.com