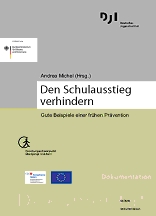 TITLE OF THE PUBLICATION
:
Preventing school drop out. Good examples of early prevention


SURNAME AND NAME OF AUTHOR(S)
:
Michel, A. (Ed.)
PUBLISHER
:
Deutsches Jugendinstitut e.V.
PLACE AND DATE OF PUBLICATION
:
München, 2005
TYPE OF PUBLICATION
:
Online document, brochure
LANGUAGE/S OF PUBLICATION
:
German
LANGUAGE OF REVIEW
:
English
DESCRIPTION OF CONTENTS
:
• Compendium of best practice examples from schools and projects of the youth welfare service to prevent the consolidation of school aversive models of behaviour
• Main topic is prevention of school tiredness and school refusal.
• Short chapter explains terms and definitions and sums up what school and youth welfare service can both do to prevent school tiredness.
• Main part of the publication is the presentation of 13 practical examples with a distinction of projects with innovative school concepts and projects with a cooperation between school and youth welfare.
• Each practical example is presented with consideration of basic conditions, initial situation, conception, implementation, experiences and contact details.
• All in all a broad and detailed survey of prevention projects all over Germany.

COMMENTS ON THIS PUBLICATION
:
This brochure is one result from the project "Network prevention of school tiredness and school refusal" of the German Youth Institute in Munich (DJI).
NAME OF COMPILER
:
Dr. Gabriele Dlugosch
NAME OF INSTITUTION
:
Zentrum für empirische pädagogische Forschung (zepf)
ROLE
:
Head of the Competence Centre Health and Wellbeing