Lifelong Learning Project - School Inclusion - Preventing Early School Leaving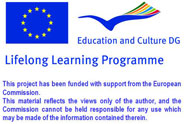 Training Initiatives

TITLE OF TRAINING INITIATIVES
:
Re-schooling and school dropping out : work in partnership
NAME OF ORGANISER
:
In-service training for the primary and secondary school staff members and for the psycho-medico social centers (PMS) organized by the Walloon-Brussels Federation.
LANGUAGE OF THE REVIEW
:
English
COUNTRY WHERE IT TOOK PLACE
:
Belgium
REVIEW OF THE TRAINING INITIATIVE
:
Aspects to consider:

- General framework / project in which the training initiative took place

Measures to fight school dropping out aimed at ensuring that all the pupils have equal opportunity for social emancipation

- Reasons why the training initiative is relevant and selected

Early school leaving is a complex phenomenon with multiple causes. It requires a multidimensional approach. This training provides ideas for reflection and intervention in order to organise a multidisciplinary and consistent help system in and out of the school, based on social networking

- Skills acquired by the teachers involved

To identify the situations and the indications that forerun school dropping out

To cross the observations from different persons who are in contact with the pupil

To define the activities to be set up and the way to work in partnership.

- Impact on the professional development

Tools for the setting up of differentiated pedagogy. However the educative staffs are not train to these tools.

- Final comments of the reviewer

2-days training intended to teachers, educators, PMS agents.
This training is based on the exchange of experiences and of participants's representations, in order to find out useful complementariness to arouse the blossom of the youths and the adults around them and to develop an efficient partnership network in which the youth would be considered as partner, actor of hi/her learning and of his/her future project while leaving exclusion to go toward autonomy.
NAME OF THE REVIEWING ORGANISATION
:
INFOREF

4 mars 2013
Lancement du Module 5 "Soutien externe et coopération"
Au cours du mois de mars 2013, les partenaires forment les enseignants impliqués dans le projet au Module 5 "Soutien externe et coopération". Le module examine les ressources et soutiens externes pour les enseignants et élèves pour les aider à prévenir le décrochage scolaire.

School Inclusion - Copyright 2008 - Ce projet a bénéficié du soutien financié de la Commission européenne



Matériel photographique : ©
Yuri Arcurs
|
Dreamstime.com