Lifelong Learning Project - School Inclusion - Preventing Early School Leaving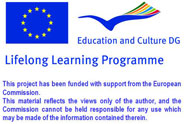 Training Initiatives

TITLE OF TRAINING INITIATIVES
:
Interdisciplinar Projects
NAME OF ORGANISER
:
FLORIDA SECUNDàRIA
LANGUAGE OF THE REVIEW
:
English
COUNTRY WHERE IT TOOK PLACE
:
Spain
REVIEW OF THE TRAINING INITIATIVE
:
Before the term in which the project is developed the responsible and the teachers of the year where this is going to be implemented meet. They need to decide which subjects/teacher are going to be involved and what is going to be the central topic of the transversal project. The subjects involved will develop the 8 basic competences through activities focused on this common topic. At the end of the term there is a transversal exhibition/product/common activity about the central topic where all the students participate from the different subjects point of view.
he Project is developed along one term (3 months) and needs some previous preparation (decide the central topic, the subjects involved, etc)
-The students from the Curricular Diversification Programme (a special group for students risking school leaving) are the first ones on having an activity related with the central topic, and are in change of explaining the central topic to the other groups (it helps to their self-esteem and the perception that the others have of them).
All the classes are divided in small working groups where students with different profiles will work together. All the working groups must achieve the goals. The success of the work team is the success of each member of the team. During the project the students have some self evaluation at personal and group level.
During the term (3 months, 9 sessions) at each of the subjects involved in the project the teacher develop contents on their area with activities focuses on the central topic:
-Activities to check the previous knowledge of the students
-Activities to introduce the topic in a motivating way.
- Activities to research and work on/with the information about the topic
-Activities for applying the info
- Activities to reflect
-Activities for the self-evaluation and co-evaluation
At the end of the term (3 months) all the classes participating in the project organize an exhibition about the central topic with elements/activities/products from each area/subject

It is observed that in general students get better results than with the "usual" exams. Also, It is useful in order to:
Fostering imagination and creativity in the learning process.
Fostering the teamwork
Motivate students by involving them in their learning process.
Get a significant learning by developing the following competences:
Communication: linguistic and audiovisual competence
Methodology: Learn to learn
Personal: autonomy and initiative
For coexistence: Social and citizenship
Artistic and cultural

NAME OF THE REVIEWING ORGANISATION
:
FLORIDA SECUNDÀRIA

4 mars 2013
Lancement du Module 5 "Soutien externe et coopération"
Au cours du mois de mars 2013, les partenaires forment les enseignants impliqués dans le projet au Module 5 "Soutien externe et coopération". Le module examine les ressources et soutiens externes pour les enseignants et élèves pour les aider à prévenir le décrochage scolaire.

School Inclusion - Copyright 2008 - Ce projet a bénéficié du soutien financié de la Commission européenne



Matériel photographique : ©
Yuri Arcurs
|
Dreamstime.com