Lifelong Learning Project - School Inclusion - Preventing Early School Leaving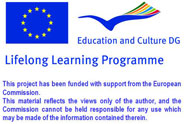 Training Initiatives

TITLE OF TRAINING INITIATIVES
:
Training of « Professionals' Hall» (2008)
NAME OF ORGANISER
:
This service implements continuous training devices intended for educational workers, especially from secondary education.
LANGUAGE OF THE REVIEW
:
English
COUNTRY WHERE IT TOOK PLACE
:
Belgium
REVIEW OF THE TRAINING INITIATIVE
:
• School dropping out, re-schooling: just another look on them…"

• Itinerary of dropping out, itinerary of re-schooling"
http://www.fundp.ac.be/det/pfc/salledespros/feuilletsalledespros/feuilletsalledesprosn3

Aspects to consider:

- General framework / project in which the training initiative took place

Measures to fight school dropping out aimed at ensuring that all the pupils have equal opportunity for social emancipation

- Reasons why the training initiative is relevant and selected

Supporting the teachers' professional development. Favoring the creation of professional networks in education. Allowing the construction of practical knowledge.

- Skills acquired by the teachers involved

• Place to speak, to listen and to confront ideas: testimonies, time for consideration and for appropriation.
• Expérimentation et analyse de pratiques novatrices débouchant sur la construction de savoirs utiles à l'action
• Experimentation and analysis of innovative practices leading to the construction of useful knowledge for action.

- Impact on the professional development

Tools for the setting up of differentiated pedagogy but the educative staffs are not trained to them.

- Final comments of the reviewer

One day seminars for teachers, educators, pedagogical counsellors, PMS' agents.

The minutes of these days were the subject of a publication in the "Le feuillet de la Salle des Pros ..." (Feuillet d'information n°3, juin 2008 - Feuillet d'information n°4, décembre 2008).

http: //www.fundp.ac.be/det/pfc/salledespros/feuilletsalledespros/Feuillet4
NAME OF THE REVIEWING ORGANISATION
:
INFOREF

4 mars 2013
Lancement du Module 5 "Soutien externe et coopération"
Au cours du mois de mars 2013, les partenaires forment les enseignants impliqués dans le projet au Module 5 "Soutien externe et coopération". Le module examine les ressources et soutiens externes pour les enseignants et élèves pour les aider à prévenir le décrochage scolaire.

School Inclusion - Copyright 2008 - Ce projet a bénéficié du soutien financié de la Commission européenne



Matériel photographique : ©
Yuri Arcurs
|
Dreamstime.com