Lifelong Learning Project - School Inclusion - Preventing Early School Leaving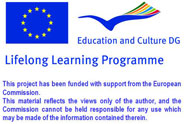 Training Initiatives

TITLE OF TRAINING INITIATIVES
:
Skills analysis output from two years of compulsory education
NAME OF ORGANISER
:
University for Foreigners of Siena
CIPAT
LANGUAGE OF THE REVIEW
:
English
COUNTRY WHERE IT TOOK PLACE
:
Italy
REVIEW OF THE TRAINING INITIATIVE
:
- General context of reference
It's a research and training activity addressed to 30 teachers from Vocational Institutes belonging to CIPAT association.
Teachers have been trained on skills assessments in output from compulsory school in the Linguistic/Mathematical/Historical-Social/Scientific-Technological areas.

- Reasons for the choice of the initiative as significant
Train a group of teachers able to transfer the skills achieved in their own schools to their colleagues and even to schools belonging to the network.

- Skills acquired by teachers involved
The teachers have acquired skills in Planning and Evaluation of skills in compulsory education.

- Impact on teachers' expertise and practice
After the end of the course some actions have been taken as courses for high school teachers in the different provinces of Tuscany.
In particular, courses have been held in Pontedera (PI), from November 2011 to March 2012 and in Pisa from November 30th 2011 to March 2nd 2012

- Final Remarks
The Headmasters of the schools whose teachers have attended the course, have expressed satisfaction with the initiative.
NAME OF THE REVIEWING ORGANISATION
:
CIPAT

4 mars 2013
Lancement du Module 5 "Soutien externe et coopération"
Au cours du mois de mars 2013, les partenaires forment les enseignants impliqués dans le projet au Module 5 "Soutien externe et coopération". Le module examine les ressources et soutiens externes pour les enseignants et élèves pour les aider à prévenir le décrochage scolaire.

School Inclusion - Copyright 2008 - Ce projet a bénéficié du soutien financié de la Commission européenne



Matériel photographique : ©
Yuri Arcurs
|
Dreamstime.com