Lifelong Learning Project - School Inclusion - Preventing Early School Leaving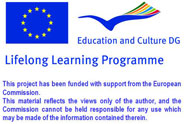 Training Initiatives

TITLE OF TRAINING INITIATIVES
:
From special educational needs to teaching differentiation
NAME OF ORGANISER
:
IPSSCTSP 'F. Datini' PRATO via di Reggiana 26
LANGUAGE OF THE REVIEW
:
English
COUNTRY WHERE IT TOOK PLACE
:
Italy
REVIEW OF THE TRAINING INITIATIVE
:
In the general context of the law on specific learning disorders and in order to facilitate the school integration and success, the project aims to achieve the following purposes:

- Set up training courses for regular and support teachers concerning the special teaching addressed to students with disabilities;
- Support the circulation of tools and educational materials produced by the participating schools that can be useful in other contexts.

In order to facilitate a deeper acquisition of the knowledge and skills covered in the training initiative, the whole project is structured on the basis of the following teaching methods:

-Learning by doing (learning through practical doing)

-Learning by thinking (learning through discussion and reflection caused by doing)

-Cooperative learning (learning through exchange and sharing of experiences).

Teachers involved: 40
Period: school year 2010-2011
Total amount of the Training Course: 18 hours
NAME OF THE REVIEWING ORGANISATION
:
Istituto Professionale di Stato Francesco Datini Prato

4 mars 2013
Lancement du Module 5 "Soutien externe et coopération"
Au cours du mois de mars 2013, les partenaires forment les enseignants impliqués dans le projet au Module 5 "Soutien externe et coopération". Le module examine les ressources et soutiens externes pour les enseignants et élèves pour les aider à prévenir le décrochage scolaire.

School Inclusion - Copyright 2008 - Ce projet a bénéficié du soutien financié de la Commission européenne



Matériel photographique : ©
Yuri Arcurs
|
Dreamstime.com