Lifelong Learning Project - School Inclusion - Preventing Early School Leaving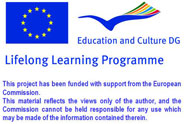 Training Initiatives

TITLE OF TRAINING INITIATIVES
:
"The secondary school degree in Tuscany: news and expectations"
NAME OF ORGANISER
:
USR TOSCANA ( Regional level of Ministry of Education in Italy)
LANGUAGE OF THE REVIEW
:
English
COUNTRY WHERE IT TOOK PLACE
:
Italy
REVIEW OF THE TRAINING INITIATIVE
:
Comparison and interventions with new strategies to prevent the extinction of school. The percentage of school dropouts is increasingly and should be absolutely identified through a comparison, with also new methods to stimulate the boys. Education and training can no longer apart from the need to implement strategies such as teaching laboratories based on the experience. Topics of the training course (2 days): the reform of technical and vocational education, guidance, assessment, system integration Tuscan between Education and Training, the school-work.
NAME OF THE REVIEWING ORGANISATION
:
IPS DATINI

4 mars 2013
Lancement du Module 5 "Soutien externe et coopération"
Au cours du mois de mars 2013, les partenaires forment les enseignants impliqués dans le projet au Module 5 "Soutien externe et coopération". Le module examine les ressources et soutiens externes pour les enseignants et élèves pour les aider à prévenir le décrochage scolaire.

School Inclusion - Copyright 2008 - Ce projet a bénéficié du soutien financié de la Commission européenne



Matériel photographique : ©
Yuri Arcurs
|
Dreamstime.com