Lifelong Learning Project - School Inclusion - Preventing Early School Leaving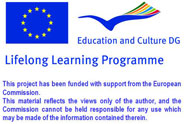 Training Initiatives

TITLE OF TRAINING INITIATIVES
:
Master degree ( I level) in "Didactics and psicopedagogia for the Specific Troubles of Learning"
NAME OF ORGANISER
:
University of Florence ,USR Tuscany
LANGUAGE OF THE REVIEW
:
English
COUNTRY WHERE IT TOOK PLACE
:
Italy
REVIEW OF THE TRAINING INITIATIVE
:
The course proposes are , through activity in presence and to distance, to form teachers and scholastic executives in subject of Specific Troubles of Learning, according to the Law 170/2010, of the relative law of July 12 th 2011 and the attach Line-guide MIUR for the right to the study of the pupils with DSA. The formation offered by the Master of which it results to strength the competences of the scholastic personnel in comparison to the tied up problem list to the DSA offering them the necessary tools.
NAME OF THE REVIEWING ORGANISATION
:
IPS DATINI

4 mars 2013
Lancement du Module 5 "Soutien externe et coopération"
Au cours du mois de mars 2013, les partenaires forment les enseignants impliqués dans le projet au Module 5 "Soutien externe et coopération". Le module examine les ressources et soutiens externes pour les enseignants et élèves pour les aider à prévenir le décrochage scolaire.

School Inclusion - Copyright 2008 - Ce projet a bénéficié du soutien financié de la Commission européenne



Matériel photographique : ©
Yuri Arcurs
|
Dreamstime.com