Lifelong Learning Project - School Inclusion - Preventing Early School Leaving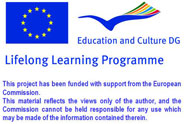 Training Initiatives

TITLE OF TRAINING INITIATIVES
:
E-twinning workshops
NAME OF ORGANISER
:
INDIRE USR Tuscany IIS Virgilio Empoli (secondary schhol)
LANGUAGE OF THE REVIEW
:
English
COUNTRY WHERE IT TOOK PLACE
:
Italy
REVIEW OF THE TRAINING INITIATIVE
:
In the regional planning eTwinning of the activities of formation organized in Tuscany, they are held near the institute of Superior Education "Virgilio" of Empoli (FI) three workshops eTwinning turned to the teachers of surrounding territory.
The three workshop, turns all in the afternoon to allow a great flow, had each the objective to deepen a particular theme of the circle didactics and technologies, illustrating tools and different didactic runs.
The organization, turns in collaboration with the USR Tuscany ,has been taken care of by the prof.ssa Bärbel Anders, teacher near the school center of the seminar, that has involved interventions of Ambassadorial teachers eTwinning in Tuscany.Contained of the meetings :
- 29 March 2012: "To work on the base eTwinning" - 26 April 2012: "To build digital stories with the LIM" - 31 May 2012: "Web 2.0 - tools and didactic runs"

NAME OF THE REVIEWING ORGANISATION
:
IPS DATINI

4 mars 2013
Lancement du Module 5 "Soutien externe et coopération"
Au cours du mois de mars 2013, les partenaires forment les enseignants impliqués dans le projet au Module 5 "Soutien externe et coopération". Le module examine les ressources et soutiens externes pour les enseignants et élèves pour les aider à prévenir le décrochage scolaire.

School Inclusion - Copyright 2008 - Ce projet a bénéficié du soutien financié de la Commission européenne



Matériel photographique : ©
Yuri Arcurs
|
Dreamstime.com