Lifelong Learning Project - School Inclusion - Preventing Early School Leaving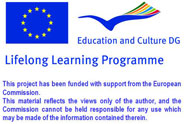 Training Initiatives

TITLE OF TRAINING INITIATIVES
:
Spazi creativi nell'universo scolastico
NAME OF ORGANISER
:
rete costellazioni Valdera
LANGUAGE OF THE REVIEW
:
Italian
COUNTRY WHERE IT TOOK PLACE
:
Italy
REVIEW OF THE TRAINING INITIATIVE
:
Attività laboratoriale proposta da studenti e insegnanti. Un percorso sulla creatività e sull'espressione che spesso riesce a motivare gli studenti fuori dall'aula e in contesti che maggiormente si avvicinano al loro vissuto e al loro contesto. Teatro, arte, musica, cinema come supporto per una valorizzazione delle potenzialità del gruppo classe non rigido.
NAME OF THE REVIEWING ORGANISATION
:
IPS DATINI

4 mars 2013
Lancement du Module 5 "Soutien externe et coopération"
Au cours du mois de mars 2013, les partenaires forment les enseignants impliqués dans le projet au Module 5 "Soutien externe et coopération". Le module examine les ressources et soutiens externes pour les enseignants et élèves pour les aider à prévenir le décrochage scolaire.

School Inclusion - Copyright 2008 - Ce projet a bénéficié du soutien financié de la Commission européenne



Matériel photographique : ©
Yuri Arcurs
|
Dreamstime.com