Lifelong Learning Project - School Inclusion - Preventing Early School Leaving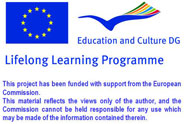 Training Initiatives

TITLE OF TRAINING INITIATIVES
:
COOPERATIVE mind : a proposal of innovative teaching skills and their evaluation in cooperative learning
NAME OF ORGANISER
:
Network "Costellazioni" Valdera Pontedera
LANGUAGE OF THE REVIEW
:
English
COUNTRY WHERE IT TOOK PLACE
:
Italy
REVIEW OF THE TRAINING INITIATIVE
:
The project includes a training package for teachers and trainers, and seeks to coordinate and implement the testing and experience existing in the cooperative learning through an international comparison with other schools . The aim is to introduce this methodology as an innovative educational practice in schools of all levels and to evaluate its potential, and provides for opportunities for training both moments of direct experience in the classroom by strengthening national and international network of schools, existing in Pisa since 2005.
NAME OF THE REVIEWING ORGANISATION
:
IPS Datini

4 mars 2013
Lancement du Module 5 "Soutien externe et coopération"
Au cours du mois de mars 2013, les partenaires forment les enseignants impliqués dans le projet au Module 5 "Soutien externe et coopération". Le module examine les ressources et soutiens externes pour les enseignants et élèves pour les aider à prévenir le décrochage scolaire.

School Inclusion - Copyright 2008 - Ce projet a bénéficié du soutien financié de la Commission européenne



Matériel photographique : ©
Yuri Arcurs
|
Dreamstime.com