Lifelong Learning Project - School Inclusion - Preventing Early School Leaving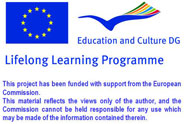 Training Initiatives

TITLE OF TRAINING INITIATIVES
:
Methods and techniques of orientation narrative
NAME OF ORGANISER
:
network pratika.net
LANGUAGE OF THE REVIEW
:
English
COUNTRY WHERE IT TOOK PLACE
:
Italy
REVIEW OF THE TRAINING INITIATIVE
:
Through the path of orientation methods and techniques are acquired narrative skills of design and administration of activities to guidance, drop-out prevention and empowerment of individuals. The aims of training initiative are:
be able to design educational programs based on narratives and interpret narrative texts, know the rules of production and the mode of descriptive. It is possible to produce narrative texts suited to the various functions recognizing a narrative text and the role that is assigned and for which it was product.

NAME OF THE REVIEWING ORGANISATION
:
IPS Datini

4 mars 2013
Lancement du Module 5 "Soutien externe et coopération"
Au cours du mois de mars 2013, les partenaires forment les enseignants impliqués dans le projet au Module 5 "Soutien externe et coopération". Le module examine les ressources et soutiens externes pour les enseignants et élèves pour les aider à prévenir le décrochage scolaire.

School Inclusion - Copyright 2008 - Ce projet a bénéficié du soutien financié de la Commission européenne



Matériel photographique : ©
Yuri Arcurs
|
Dreamstime.com