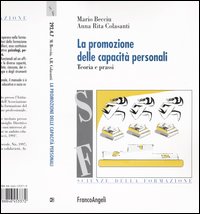 TITOLO DELLA PUBBLICAZIONE
:
The promotion of personal abilities. Theory and procedure
NOME E COGNOME DELL'AUTORE/I
:
Mario Becciu, Anna Rita Colasanti
TIPOLOGIA DELLA PUBBLICAZIONE
:
Book
LINGUA DELLA PUBBLICAZIONE
:
Italian
DESCRIZIONE DEI CONTENUTI
:
Personal qualifications: theoretical outline; promotion of personal qualifications in formative contexts; development of personal abilities as formative goal. 14 work units.
COMMENTO SULLA PUBBLICAZIONE
:
The volume collects thoughts and work units made by a team of teachers from CNOS FAP (National Centre Opere Salesiane), professional formation centre. Highly useful material for people working in the field of formation of growing teenagers.
AUTORE DELLA RECENSIONE
:
Gabbriella Baragatti
ISTITUZIONE
:
Istituto Professionale Enriques - Castefiorentino