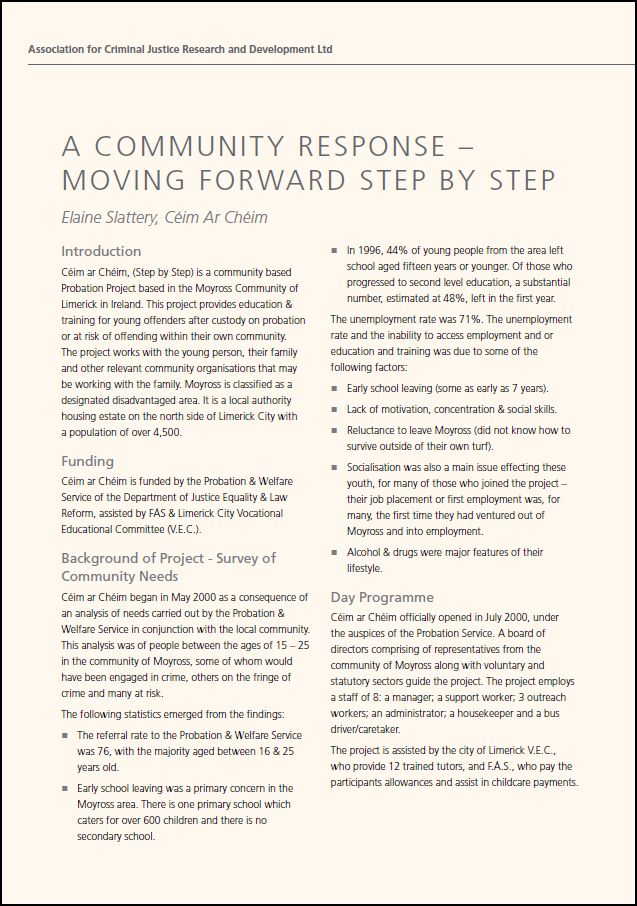 TITOLO DELLA PUBBLICAZIONE
:
A Community Response – Moving Forward Step by Step
NOME E COGNOME DELL'AUTORE/I
:
Elaine Slattery
LUOGO E DATA DELLA PUBBLICAZIONE
:
Ireland 2007
TIPOLOGIA DELLA PUBBLICAZIONE
:
Conference paper
LINGUA DELLA PUBBLICAZIONE
:
English
DESCRIZIONE DEI CONTENUTI
:
This paper describes a community based Probation programme - Ceίm ar Ceίm (Step by Step) - in the Moyross community in Limerick city, which is designated a disadvantaged area. The target group identified are clients of the Probation & Welfare Service, early school leavers, and prisoners on temporary release. Current statistics in relation to early school leavers and unemployment in the Moyross area are summarised.
The paper outlines the target group, referral system, course content, qualifications obtainable, work experience and the day and evening programmes available at the project.

COMMENTO SULLA PUBBLICAZIONE
:
This paper gives a concise account of the Ceίm ar Ceίm Project and the daily programme that it offers participants and trainees. It is another valuable response to give early school leavers a second chance for education and training.
AUTORE DELLA RECENSIONE
:
Ann Caulfield
ISTITUZIONE
:
Mayo Education Centre