Lifelong Learning Project - School Inclusion - Preventing Early School Leaving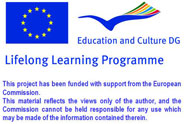 Training Initiatives

TITLE OF TRAINING INITIATIVES
:
Close, agree and commit: document signed contract for improvement
NAME OF ORGANISER
:
Equipo de tutoría del Ciclo Formativo de Grado Medio de Técnico en Sistemas Microinformáticos y Redes, ( Juani López, Mabi Sánchez, Toni Ruiz y Tomás Marín), coordinados por el responsable de unidad Salvador Gutiérrez y Marcela Senent (departamento de orientación)
LANGUAGE OF THE REVIEW
:
English
REVIEW OF THE TRAINING INITIATIVE
:
. Context in which good practice is conducted
Coping with conflict situations in a reasonable point.
• Why have you chosen this good practice?
Communication in the teaching-learning process has to incorporate the message of shared resolve.
The decisions you make from conflict situations have previously lead a process of consultation
Treat them just problems among people affected by them, in a personalized way and outside the classroom.

• Skills acquired by teachers involved
• Deal with problems in an organized
• To demonstrate respect for the person to objectively analyze situations to improve in a specific time devoted to it, thus avoiding personal confrontations that only generate reactivity.
• Patience
• Make decisions and joint commitments
• Assess the resolve the problem that the very problem itself
• Impact on professional development
Management tasks defined and supported from all the team title and the Guidance Department.
• Final comments
Occurs:
1. Approach (friendly).
2. Objectivity.
3. Treat each situation with the people affected.
4. Develop protocols where
• Define what is happening (no disqualifications actions)
• Set different causes
• Plan specific solutions
• Test them in time
5. Changes in all people obtain benefits.

For more information or compilation of materials and attachments, please get in touch with Marcel.la Senent
"[email protected]".
NAME OF THE REVIEWING ORGANISATION
:
Florida Cicles Formatius

15 November 2012
[email protected] at the Future of Education Conference
The [email protected] projet will be presented at the third edition of the "Future of Education" international conference, held in Florence, Italy, on 13 - 14 June 2013. Over 250 participants from all over the world will attend the conference. The conference participants belong to the sectors of higher education, school education, vocational education and training as well as adult education, therefore representing all of the target groups of the [email protected] project.

School Inclusion - Copyright 2008 - This project has been funded with support from the European Commission



Webmaster:
Pinzani.it
- Materiale fotografico: ©
Yuri Arcurs
|
Dreamstime.com