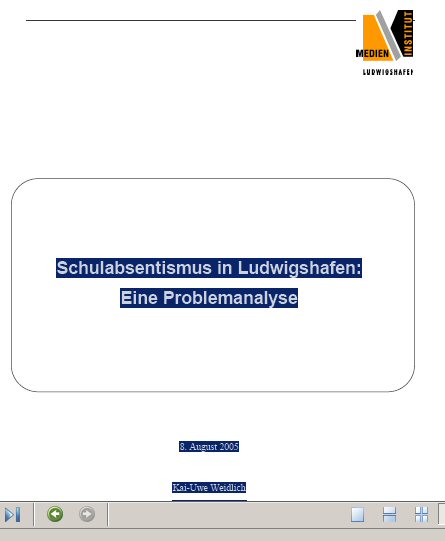 TITLE OF THE PUBLICATION
:
Schulabsentismus in Ludwigshafen: Eine Problemanalyse
SURNAME AND NAME OF AUTHOR(S)
:
Weidlich, K.-U. & Vlasic, A.
PLACE AND DATE OF PUBLICATION
:
2005
TYPE OF PUBLICATION
:
Online-Dokument, Bericht
LANGUAGE/S OF PUBLICATION
:
Deutsch
LANGUAGE OF REVIEW
:
German
DESCRIPTION OF CONTENTS
:
Die Publikation stellt die Ergebnisse einer Lehrerbefragung hinsichtlich der spezifischen Situation im Bereich Schulabsentismus (Prävalenz, Gründe und Konsequenzen) vor. Im Zentrum der Untersuchung standen dabei Ursachen und Konsequenzen von Schuleschwänzen. Aus der Ergebnisdarstellung werden im Folgenden Handlungs-empfehlungen abgeleitet.
COMMENTS ON THIS PUBLICATION
:
Die Studie wurde im Auftrag der Stadt Ludwigshafen an verschiedenen Schulen mit dem Ziel durchgeführt, auf dieser Grundlage konkrete Interventionsprogramme aufzubauen.
NAME OF COMPILER
:
PD Dr. Gabriele Dlugosch
NAME OF INSTITUTION
:
Zentrum für empirische pädagogische Forschung (zepf)
Universität Koblenz-Landau, Campus Landau
ROLE
:
Leiterin des Kompetenzzentrums Gesundheit und Wohlbefinden