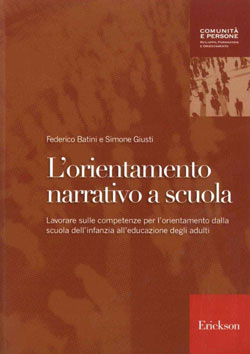 TITLE OF THE PUBLICATION
:
L'Orientamento narrativo a scuola
SURNAME AND NAME OF AUTHOR(S)
:
Federico Batini e Simone Giusti
PLACE AND DATE OF PUBLICATION
:
2008
TYPE OF PUBLICATION
:
Libro
LANGUAGE/S OF PUBLICATION
:
Italiano
LANGUAGE OF REVIEW
:
Italian
DESCRIPTION OF CONTENTS
:
Il libro propone di utilizzare la narrativa per sviluppare la capacità di dare un ordine, un rilievo e un senso ai fatti della vita, diventare capaci di affrontare le situazioni nuove e inaspettate, di immaginare il futuro e di progettare soluzioni per costruirlo attivamente.
Il testo si articola nei seguenti capitoli:
L'approccio per competenze nella scuola
Rendere capaci di orientarsi attraverso le narrazioni
Lavorare in aula con le narrazioni
Percorsi di orientamento narrativo
Il racconto dell'isola sconosciuta

COMMENTS ON THIS PUBLICATION
:
Le narrazioni orientano i ragazzi nei percorsi scolastici e formativi, prevengono la dispersione scolastica e il disagio sociale. La metodologia italiana dell'orientamento Narrativo ne pone le basi scientifiche. Il metodo è stato sperimentato a scuola e nella formazione professionale; l'ISFOL l'ha individuato come buona pratica di orientamento e l'ha presentato al pubblico internazionale. Si acquisiscono, dicono le ricerche, autostima e empowerment, cioè capacità di analisi di sé, dei propri percorsi e della propria progettualità necessari nella società attuale in continua trasformazione.
NAME OF COMPILER
:
Daniela Giovannini
NAME OF INSTITUTION
:
ISIP "Da Vinci-Balducci" Arcidosso, Firenze
ROLE
:
Dirigente Scolastico