Lifelong Learning Project - School Inclusion - Preventing Early School Leaving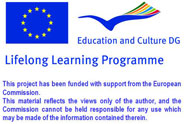 Database of Publications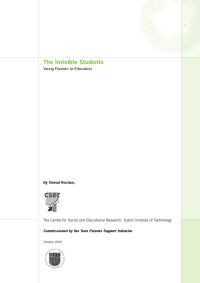 TITLE OF THE PUBLICATION
:
The Invisible Students
SURNAME AND NAME OF AUTHOR(S)
:
Sinéad Riordan
PUBLISHER
:
Depatyment of Health & Children
PLACE AND DATE OF PUBLICATION
:
Ireland 2002
TYPE OF PUBLICATION
:
Paper
LANGUAGE/S OF PUBLICATION
:
English
LANGUAGE OF REVIEW
:
English
DESCRIPTION OF CONTENTS
:
This paper was commissioned as part of the external evaluation of a national pilot programme, the Teen Parents Support Initiative (TPSI), funded by the Department of Health and Children. The Initiative consists of three pilot projects working directly with young parents and pregnant teenagers aged 19 years and under, and a fourth element, namely the production of a resource pack and directory of services for use by key workers with young parents.
The key objectives of this paper are:
(i) To review and identify possible gaps in service provision and barriers to participation in
education and training for young parents;
(ii) To discuss the policy backdrop against which TPSI pilot sites offer support to young parents to
continue in or return to education and training;
(iii) To generate recommendations for the development of policy for young parents in education and
training; and
(iv) To briefly describe and discuss the work of the TPSI in education and training for young parents and to examine key demographic characteristics of young parents as they pertain to education and what this may mean for the work of the overall programme.
Accompanied by case studies the paper outlines both national and regional initiatives. It discusses the implications of teen pregnancy on the continuation of education and the possibilities of school early school leaving as a result of parenting

COMMENTS ON THIS PUBLICATION
:
Research indicates that teenage parents area a vulnerable group within the educational system and that difficulties in continuing formal education is a consideration fro them. Because the education may be disrupted by the demands of pregnancy and/or parenting and it can require considerable individual determination, family support and supportive agencies to resume or remain in education. This paper is a valuable source of information and for teen parents, families, educators and service providers
NAME OF COMPILER
:
Ann Caulfield
NAME OF INSTITUTION
:
Mayo Education Centre

4 mars 2013
Lancement du Module 5 "Soutien externe et coopération"
Au cours du mois de mars 2013, les partenaires forment les enseignants impliqués dans le projet au Module 5 "Soutien externe et coopération". Le module examine les ressources et soutiens externes pour les enseignants et élèves pour les aider à prévenir le décrochage scolaire.

School Inclusion - Copyright 2008 - Ce projet a bénéficié du soutien financié de la Commission européenne



Matériel photographique : ©
Yuri Arcurs
|
Dreamstime.com