Lifelong Learning Project - School Inclusion - Preventing Early School Leaving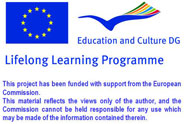 Database of Publications

TITLE OF THE PUBLICATION
:
Obbligo Di Istruzione Nell'apprendistato : 126.000 Ragioni Per Essere Contrari
SURNAME AND NAME OF AUTHOR(S)
:
Fabrizio Dacrema Anna Teselli
PUBLISHER
:
www.scuolaoggi.org
PLACE AND DATE OF PUBLICATION
:
31 marzo 2010, scuolaogg.org Rivista in rete
TYPE OF PUBLICATION
:
articolo su web
LANGUAGE/S OF PUBLICATION
:
italian
LANGUAGE OF REVIEW
:
Italian
DESCRIPTION OF CONTENTS
:
L'articolo si collega alla recente approvazione delle norme sull'apprendistato, che a partire dai 15 anni di età permette di assolvere comunque l'obbligo di istruzione.
COMMENTS ON THIS PUBLICATION
:
E' una posizione negativa sulle nuove disposizioni , in quanto si ritiene che l'apprendistato non risolva il problema della dispersione scolastica
WHERE TO FIND IT
:
www.scuolaoggi.org/system/files/apprend%20ventiseimila.doc
NAME OF COMPILER
:
Marco Manzuoli
NAME OF INSTITUTION
:
IPS Francesco Datini

4 mars 2013
Lancement du Module 5 "Soutien externe et coopération"
Au cours du mois de mars 2013, les partenaires forment les enseignants impliqués dans le projet au Module 5 "Soutien externe et coopération". Le module examine les ressources et soutiens externes pour les enseignants et élèves pour les aider à prévenir le décrochage scolaire.

School Inclusion - Copyright 2008 - Ce projet a bénéficié du soutien financié de la Commission européenne



Matériel photographique : ©
Yuri Arcurs
|
Dreamstime.com