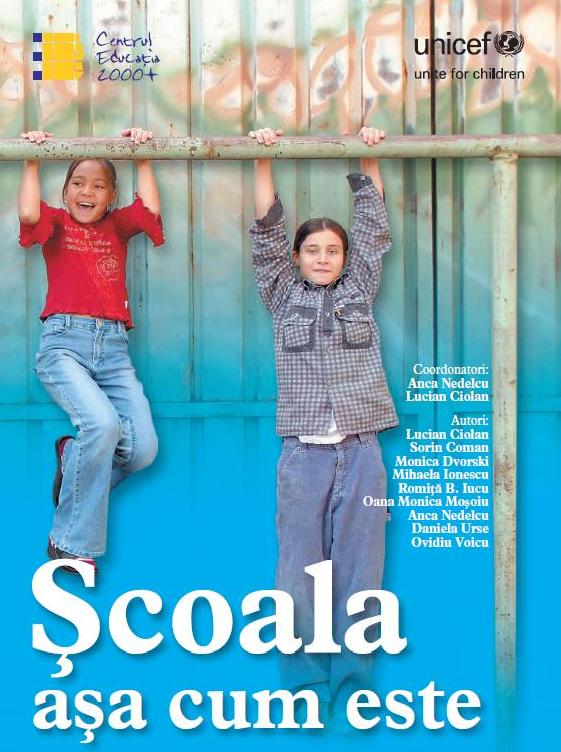 TITLE OF THE PUBLICATION
:
School as it is
SURNAME AND NAME OF AUTHOR(S)
:
Coord. Anca Nedelcu & Lucian Ciolan
PUBLISHER
:
Vanemonde (ISBN 978-973-1733-14-2)
PLACE AND DATE OF PUBLICATION
:
Bucharest, 2010
TYPE OF PUBLICATION
:
Research, Report
LANGUAGE/S OF PUBLICATION
:
Romanian
LANGUAGE OF REVIEW
:
English
DESCRIPTION OF CONTENTS
:
This book compiles reseaches carried out between December 2007 – December 2009 within the project "The School as it Is – Portrait of the Student, the Teacher and their Interactions".

The project was launched, designed and developed between 2007 – 2009 by the partnership (and financially) of the European Nations Found cor Children – UNICEF Romania and the Centre Educatia 2000+, nongouvernamental organisations of policies, services and educational consultancy, member of Soros Open Network (SON) Romania.

The development of the project, together with the publication of the present volume in a moment when Romania is in a crucial stage are not at random.
The project was generated by the need for understanding not only what the Romanian education systen is like at present, but also the manner the main actors of the educational process such as teachers, instructors, students and parents think, self-evaluate and see each other.

Contents:
Ch. 1. "School as It Is": Space for Reflection for Practitioners, Researchers, Decision Makers.
Ch. 2. What Makes a "Good Teacher": Between Myth and Reality
Ch. 3. Rethinking the Relationships between Teachers and Society
Ch. 4. Teachers' Professional Identity: Metaphors, Myths, Heroes
Ch. 5. From Text to Context: Metaphors and Significations in "My Teacher" – Type Students' Essays
Ch. 6. Whom Does School Belong To?
Ch.7. Finding Semnifications in Pictures: the School as Drawn by Pupils
Ch. 8. Nowadays Pupil as Seen in Pupils' Eyes – between Uncertainty and Disorientation
Ch. 9. School at First Sight – a Subjective Radiography of the School as It Is. Research Journal
Ch. 10. "Home" Perspective or What Do Parents Know about School and Teachers
Ch. 11 "Home Educators": Parents' Role in Their Children's Education
Ch. 12. The Romanian School: Paradoxes and Contradictions

COMMENTS ON THIS PUBLICATION
:
At the first sight, the book can be presented, of course, as a report, as a synthesis of what all the people involved in the project development have created and carried out by working together.

Nevertheless we invite the readers to appoach it as an "educational book" in which many of things we know (or we think we know) about the school and those who define its culture and ethos are validated (or not).

We invite the reader to study carefully the outlined portraits, the dynamics of the interactions, the common places and major differences in the way of thinking, expectancies and requirements of those who define the school universe. Being or not a specialist in education, every reader shall find throughout this work at least one aspect which is worth reflecting on, at least one idea which can support the future actions and undertakings for the modernization of the educational institutions.

NAME OF COMPILER
:
Andreea Cleminte
NAME OF INSTITUTION
:
Fundatia EuroEd