Lifelong Learning Project - School Inclusion - Preventing Early School Leaving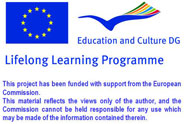 Database of Publications

TITLE OF THE PUBLICATION
:
El nivel educativo ¿sube o baja?
SURNAME AND NAME OF AUTHOR(S)
:
Rafael Feito
PUBLISHER
:
48 CUADERNOS DE PEDAGOGÍA. Nº393
PLACE AND DATE OF PUBLICATION
:
SEPTIEMBRE 2009
TYPE OF PUBLICATION
:
Revista Educativa
LANGUAGE/S OF PUBLICATION
:
Español
LANGUAGE OF REVIEW
:
Spanish
DESCRIPTION OF CONTENTS
:
Experiencia docente pone de manifiesto cómo el nivel de educación ha disminuido en los últimos años.
COMMENTS ON THIS PUBLICATION
:
El artículo trata de explicar temas importantes, tales como el significado del nivel de educación y cómo se mide su progreso o disminucuón. Además, identifica los factores que influyen en el éxito o el fracaso académico de los estudiantes y cómo los profesores construyen su percepción en relación a eso. Aunque muchos expertos hablan de una disminución del nivel de la educación, las estadísticas demuestran que el número de personas que tienen un aumento de la educación y las personas de nivel educativo han aumentado respecto del pasado.
NAME OF COMPILER
:
Alessia Pinna
NAME OF INSTITUTION
:
Florida
ROLE
:
Departamento de Relaciones Internacionales

4 mars 2013
Lancement du Module 5 "Soutien externe et coopération"
Au cours du mois de mars 2013, les partenaires forment les enseignants impliqués dans le projet au Module 5 "Soutien externe et coopération". Le module examine les ressources et soutiens externes pour les enseignants et élèves pour les aider à prévenir le décrochage scolaire.

School Inclusion - Copyright 2008 - Ce projet a bénéficié du soutien financié de la Commission européenne



Matériel photographique : ©
Yuri Arcurs
|
Dreamstime.com