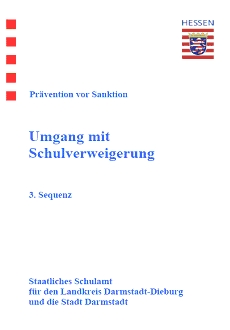 TITLE OF THE PUBLICATION
:
Dealing with school refusal. Prevention before sanction

SURNAME AND NAME OF AUTHOR(S)
:
Staatliches Schulamt für den Landkreis Darmstadt – Dieburg und die Stadt Darmstadt
PLACE AND DATE OF PUBLICATION
:
2005
TYPE OF PUBLICATION
:
Online document, brochure
LANGUAGE/S OF PUBLICATION
:
German
LANGUAGE OF REVIEW
:
English
DESCRIPTION OF CONTENTS
:
• Educational and legal possibilities for intervention
• 2 examples for prevention projects
• Results and work assignments of the working group from the schools to the education authority; for example:
- the regulatory offence procedure
- list with recommendations to handle school refusal
- example for a message to the youth welfare office
COMMENTS ON THIS PUBLICATION
:
The publication is compiled from the working group "Prevention before sanction".

Their duty was to develop concepts to support schools regarding their counselling needs.

NAME OF COMPILER
:
Dr. Gabriele Dlugosch
NAME OF INSTITUTION
:
Zentrum für empirische pädagogische Forschung (zepf)
ROLE
:
Head of the Competence Centre Health and Wellbeing