Lifelong Learning Project - School Inclusion - Preventing Early School Leaving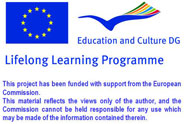 Course on Prevention of School Early Leaving

Welcome to the training section of the 'School Inclusion' project!

The course 'Prevention of School Early Leaving', is intended for use by secondary school teachers, to help them to identify which of their students are at risk of early school leaving and to provide them with some useful skills to prevent or reduce the problem.

The course is organized in 5 modules:
Module 1:

Module 2:

Module 3:

Module 4:

Module 5:
As an integration to the course, the following services and materials are available for the teachers involved:

4 mars 2013
Lancement du Module 5 "Soutien externe et coopération"
Au cours du mois de mars 2013, les partenaires forment les enseignants impliqués dans le projet au Module 5 "Soutien externe et coopération". Le module examine les ressources et soutiens externes pour les enseignants et élèves pour les aider à prévenir le décrochage scolaire.

School Inclusion - Copyright 2008 - Ce projet a bénéficié du soutien financié de la Commission européenne



Matériel photographique : ©
Yuri Arcurs
|
Dreamstime.com