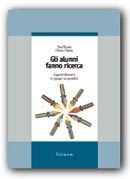 TITOLO DELLA PUBBLICAZIONE
:
Expanding cooperative learning though group investigation
NOME E COGNOME DELL'AUTORE/I
:
Y. Sharan, S. Sharan
TIPOLOGIA DELLA PUBBLICAZIONE
:
Book
LINGUA DELLA PUBBLICAZIONE
:
Italian
DESCRIZIONE DEI CONTENUTI
:
According to the authors group investigation is an educational method to be used in class in which the students work together in small groups in a collaborative way to examine, experience and understand their subject of study.
The purpose of the model is to conduct the students to define problems, explore the different perspectives and to study together to acquire information, ideas and ability, developing their own social competences at the same time.
The teacher plans and manages the process of the group, helps the students to find and to organize the information and assures an high level of activity and discussion.

COMMENTO SULLA PUBBLICAZIONE
:
To my mind the cooperative methods, not wanting to replace the traditional methods, engage a greater reflection on the social and international aspects of learning. What represents in my opinion the added value of the book by the Sharans is the introduction of the method of scientific research in learning in general and in particular in cooperative learning.
Furthermore it is interesting the statement according to which the teachers should not set themselves as a first objective the slavish taking in of knowledge but instead the active action of to learn to think, in short the development of critical thought.

DOVE REPERIRLA
:
www.erickson.it
AUTORE DELLA RECENSIONE
:
Agata Lacagnina
ISTITUZIONE
:
Istituto professionale Einaudi, Grosseto