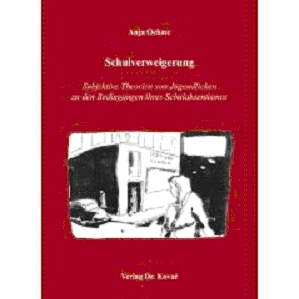 TITOLO DELLA PUBBLICAZIONE
:
School refusal: Juveniles´ subjective theories about the conditions of their school absenteeism


NOME E COGNOME DELL'AUTORE/I
:
Oehme, A.
EDITORE
:
Verlag Dr. Kovač
LUOGO E DATA DELLA PUBBLICAZIONE
:
Hamburg, 2007
TIPOLOGIA DELLA PUBBLICAZIONE
:
Specialist publication
LINGUA DELLA PUBBLICAZIONE
:
German
DESCRIZIONE DEI CONTENUTI
:
• Approaches / definitions regarding "school refusal"

• Concepts of the development of school absenteeism (concept of neglect, psychodynamic concept, role theory, concept of school criticism, systemic point of view)

• Comparison of empirical results leading over to the theoretical base of the author´s study (behaviorism, cognitive theory, subjective theory)

COMMENTO SULLA PUBBLICAZIONE
:
• Structured interviews were carried out by the author. The participants were asked to explain their subjective theory of absence retrospectively.

• The chosen method was the realization of case studies (idiographic analysis).

• Interventions with regard to the case studies complete the descriptions.

• Illustrative diagrams give an overview of the process of school absenteeism.


AUTORE DELLA RECENSIONE
:
Dr. Gabriele Dlugosch
ISTITUZIONE
:
Zentrum für empirische pädagogische Forschung (zepf)
RUOLO
:
Head of the Competence Centre Health and Wellbeing