Lifelong Learning Project - School Inclusion - Preventing Early School Leaving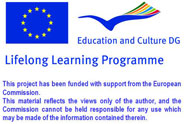 Database delle pubblicazioni

TITOLO DELLA PUBBLICAZIONE
:
The Peer Education

Guidelines and operating routes
NOME E COGNOME DELL'AUTORE/I
:
Giovanna Boda
LUOGO E DATA DELLA PUBBLICAZIONE
:
Milano, 2006
TIPOLOGIA DELLA PUBBLICAZIONE
:
book
LINGUA DELLA PUBBLICAZIONE
:
Italian
DESCRIZIONE DEI CONTENUTI
:
The volume presents guidelines that are referenced by the majority of European countries to implement the projects of peer education in different fields from education to law to education to health to the prevention of addictions, to the expansion of educational and training.

Compared to prevention strategies for information only the peer education promotes "the recognition of the right and duty of young people to take responsibility for their own health and their education."

COMMENTO SULLA PUBBLICAZIONE
:
The text provides the theoretical references and operational tools to start a project of education in life skills (the skills psychosocial) using the methodology of peer education. Use peer education means choosing an educational strategy to create effective learning environments in different new relational dynamics, greater involvement of young people and a genuine sharing of the educational objectives. In fact develop life skills through peer education can increase levels of self-esteem and trigger virtuous circles between capacity and feelings of self-worth.
AUTORE DELLA RECENSIONE
:
Marco Manzuoli

15 November 2012
Stay@School at the Future of Education Conference
The Stay@School projet will be presented at the third edition of the "Future of Education" international conference, held in Florence, Italy, on 13 - 14 June 2013. Over 250 participants from all over the world will attend the conference. The conference participants belong to the sectors of higher education, school education, vocational education and training as well as adult education, therefore representing all of the target groups of the Stay@School project.

School Inclusion - Copyright 2008 - This project has been funded with support from the European Commission


Comunicazione grafica:
Achrom.it
- Programmazione &
Web Marketing
:
Pinzani.it
- Hosting by:
Connectis s.r.l.

Materiale fotografico: ©
Yuri Arcurs
|
Dreamstime.com