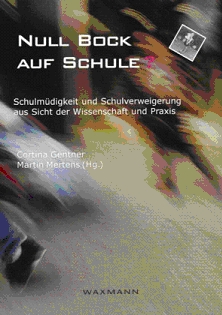 TITOLO DELLA PUBBLICAZIONE
:
No interest to go to school?

NOME E COGNOME DELL'AUTORE/I
:
Gentner, C. & Mertens, M.
LUOGO E DATA DELLA PUBBLICAZIONE
:
Münster, 2006
TIPOLOGIA DELLA PUBBLICAZIONE
:
Compilation
LINGUA DELLA PUBBLICAZIONE
:
German
DESCRIZIONE DEI CONTENUTI
:
• Articles about the phenomenon school tiredness, school refusal and school absenteeism from the perspective of research and practice.
• Project presentation.
• One chapter (by Ricking et al.) provides a manual of prevention of school absenteeism. Furthermore, it describes quality standards in schools for management and treatment of attainment and absences of students.

COMMENTO SULLA PUBBLICAZIONE
:
• In the area of school absenteeism well-known authors describe different aspects of school refusal.
• Chapter by Ricking et al. covers all relevant areas of school life.
• Can be used by schools to analyse the status quo and to develop concepts.

AUTORE DELLA RECENSIONE
:
Dr. Gabriele Dlugosch
ISTITUZIONE
:
Zentrum für empirische pädagogische Forschung (zepf)
RUOLO
:
Head of the Competence Centre Health and Wellbeing