Lifelong Learning Project - School Inclusion - Preventing Early School Leaving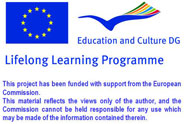 Database of Publications

TITLE OF THE PUBLICATION
:
Il disagio scolastico:cause e strategie di intervento
SURNAME AND NAME OF AUTHOR(S)
:
Autori vari
PUBLISHER
:
Consorzio Università di Rovigo Sportello Multimediale
PLACE AND DATE OF PUBLICATION
:
Rovigo, 2010
TYPE OF PUBLICATION
:
Sito web
LANGUAGE/S OF PUBLICATION
:
Italiano
LANGUAGE OF REVIEW
:
Italian
DESCRIPTION OF CONTENTS
:
Fare il punto sulle difficoltà specifiche di apprendimento, attenzione, concentrazione, relazione.
Fornire spunti di riflessione ed aiutare genitori e docenti nell'individuazione delle strategie utili ad affrontare le diverse problematiche adolescenziali.
Aiutare nello specifico i genitori a riconoscere il proprio stile educativo e a valutarne l'efficacia.
Creare i presupposti per azioni congiunte tra scuola e famiglia.
Intervenire per risolvere disarmonie nel rapporto fra minore ed ambiente (scuola, famiglia, gruppo dei pari).

COMMENTS ON THIS PUBLICATION
:
Il disagio scolastico rappresenta uno dei problemi più importanti che la scuola si trova attualmente ad affrontare. Questo aspetto viene tuttavia in parte sottovalutato, nonostante le forti ripercussioni che esso produce nella persona che lo vive.
NAME OF COMPILER
:
Marco Manzuoli
NAME OF INSTITUTION
:
IPS Francesco Datini Prato

4 mars 2013
Lancement du Module 5 "Soutien externe et coopération"
Au cours du mois de mars 2013, les partenaires forment les enseignants impliqués dans le projet au Module 5 "Soutien externe et coopération". Le module examine les ressources et soutiens externes pour les enseignants et élèves pour les aider à prévenir le décrochage scolaire.

School Inclusion - Copyright 2008 - Ce projet a bénéficié du soutien financié de la Commission européenne



Matériel photographique : ©
Yuri Arcurs
|
Dreamstime.com