Lifelong Learning Project - School Inclusion - Preventing Early School Leaving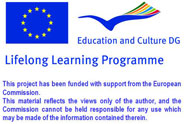 Database of Publications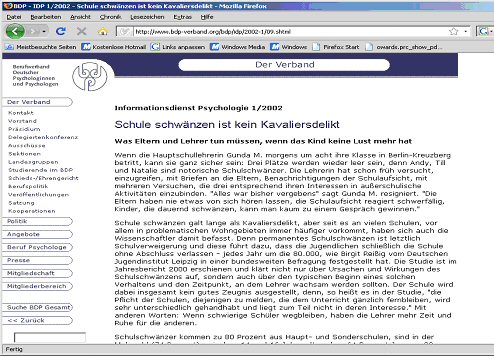 TITLE OF THE PUBLICATION
:
Playing truant is not a peccadillo. What parents and teachers can do when the child is not keen on school

SURNAME AND NAME OF AUTHOR(S)
:
Berufsverband Deutscher Psychologinnen und Psychologen (BDP)
PLACE AND DATE OF PUBLICATION
:
2002
TYPE OF PUBLICATION
:
Online article
LANGUAGE/S OF PUBLICATION
:
German
LANGUAGE OF REVIEW
:
English
DESCRIPTION OF CONTENTS
:
• Short article summing up the most important information about school tiredness and truancy.
• Eight hints from a school psychologist what to do against truancy
• Information about prevalence, age and sex specific incidences and starting and process from truancy to drop out.
• Further questions: What do pupils do when they play truant? What do parents and schools do?

COMMENTS ON THIS PUBLICATION
:
Short summarizing overview
NAME OF COMPILER
:
Dr. Gabriele Dlugosch
NAME OF INSTITUTION
:
Zentrum für empirische pädagogische Forschung (zepf)
ROLE
:
Head of the Competence Centre Health and Wellbeing

4 mars 2013
Lancement du Module 5 "Soutien externe et coopération"
Au cours du mois de mars 2013, les partenaires forment les enseignants impliqués dans le projet au Module 5 "Soutien externe et coopération". Le module examine les ressources et soutiens externes pour les enseignants et élèves pour les aider à prévenir le décrochage scolaire.

School Inclusion - Copyright 2008 - Ce projet a bénéficié du soutien financié de la Commission européenne



Matériel photographique : ©
Yuri Arcurs
|
Dreamstime.com