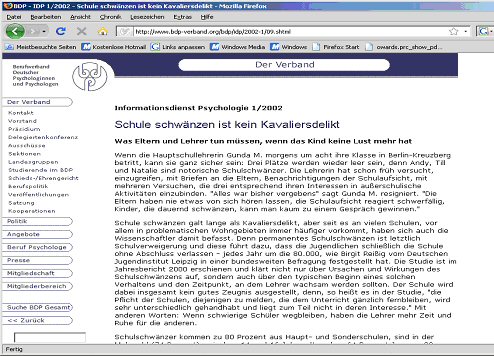 TITOLO DELLA PUBBLICAZIONE
:
Playing truant is not a peccadillo. What parents and teachers can do when the child is not keen on school

NOME E COGNOME DELL'AUTORE/I
:
Berufsverband Deutscher Psychologinnen und Psychologen (BDP)
LUOGO E DATA DELLA PUBBLICAZIONE
:
2002
TIPOLOGIA DELLA PUBBLICAZIONE
:
Online article
LINGUA DELLA PUBBLICAZIONE
:
German
DESCRIZIONE DEI CONTENUTI
:
• Short article summing up the most important information about school tiredness and truancy.
• Eight hints from a school psychologist what to do against truancy
• Information about prevalence, age and sex specific incidences and starting and process from truancy to drop out.
• Further questions: What do pupils do when they play truant? What do parents and schools do?

COMMENTO SULLA PUBBLICAZIONE
:
Short summarizing overview
AUTORE DELLA RECENSIONE
:
Dr. Gabriele Dlugosch
ISTITUZIONE
:
Zentrum für empirische pädagogische Forschung (zepf)
RUOLO
:
Head of the Competence Centre Health and Wellbeing